Hey there! As a vegan, I'm always on the lookout for delicious and healthy recipes that satisfy my cravings. Recently, I stumbled upon an amazing vegan ramen recipe that I just had to try. And let me tell you, it did not disappoint!
The recipe starts with a flavorful broth made with vegetable stock and kombu, which adds a subtle umami taste. I also made my own cashew milk by blending cashews and water, which gave the broth a creamy and nutty flavor.
To add some texture and protein, I roasted some shiitake mushrooms and baby bok choy in the oven, along with some tofu cubes that were marinated in soy sauce and toasted sesame oil. The result was a delicious and filling bowl of ramen that was bursting with flavor.
I also loved the addition of chili oil and sesame paste, which added a touch of spice and nuttiness to the dish. And the garnishes of chili threads and black sesame seeds added a pop of color and crunch.
Overall, this vegan ramen recipe is a must-try for anyone looking for a comforting and healthy meal. Give it a try and let me know what you think!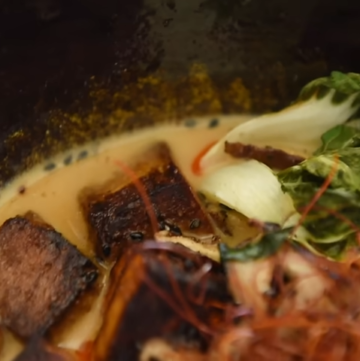 Vegan Ramen Recipe
This recipe features a flavorful and creamy broth made with vegetable stock and cashew milk, paired with roasted veggies and tofu for a hearty and nutritious meal.
Ingredients
3

cups

vegetable stock

5

g

kombu

1/4

cup

cashews + 2 cups water

3

baby bok choy

75

g

shiitake mushrooms

1

tsp

avocado oil

pinch

of salt

pepper to taste

100

g

medium firm tofu

1/2

tsp

cumin

1/4

tsp

+ 1/4 tsp toasted sesame oil

1

tsp

+ 1 1/2 tbsp soy sauce

1

tsp

dark soy sauce

1 1/2

tbsp

chili oil

1

tbsp

white sesame paste

chili threads to serve

black sesame seeds to serve
Instructions
Begin by preheating the oven to 375F and bringing a pot of water to a boil for the noodles.

In a separate pot, bring the vegetable stock and kombu to a boil.

Using a high-powered blender, liquefy the cashews and 2 cups of water to make cashew milk.

Remove the kombu from the vegetable stock and turn off the heat once boiling.

Prepare the baby bok choy and shiitake mushrooms by slicing them in half and tossing them in a mixing bowl with avocado oil, salt, and pepper.

Spread the veggies onto a baking tray lined with parchment paper.

Toss cubed tofu with cumin, toasted sesame oil, soy sauce, and dark soy sauce. Then, add it to the baking tray with the veggies and bake in the oven for 15 minutes.

While whisking, pour in about 1/2 cup of cashew milk into the vegetable stock.

Create the ramen broth in a separate bowl by whisking together soy sauce, toasted sesame oil, chili oil, and white sesame paste.

Heat up the broth and boil the ramen noodles for 3-4 minutes according to package instructions.

Strain the noodles and add them to the ramen bowl with the hot broth. Assemble the bowl with the roasted veggies and garnish with chili threads, black sesame seeds, and a drizzle of chili oil.
One thing I love about this recipe is how customizable it is. You can easily switch up the veggies or protein based on what you have on hand or your personal preferences. I've made it with broccoli, carrots, and even tempeh instead of tofu, and it always turns out delicious.
Another great thing about this recipe is that it's perfect for meal prep. I like to make a big batch of the broth and roasted veggies ahead of time, and then just cook the noodles and assemble the bowl when I'm ready to eat. It's a great way to save time and have a healthy meal ready to go.
If you're new to making ramen at home, don't be intimidated! This recipe is actually quite easy to make, and the end result is so much more satisfying than anything you can get at a restaurant. Plus, you can feel good about knowing exactly what's going into your meal and being able to control the ingredients.
When it comes to pairing a drink with this vegan ramen recipe, I like to keep it simple and go with water or a cup of green tea. Green tea is packed with antioxidants and has been shown to have numerous health benefits, including boosting metabolism and aiding in weight loss.
Speaking of weight loss, this vegan ramen recipe is actually a great option for anyone looking to maintain a healthy weight or even lose a few pounds. It's high in protein and fiber, which can help keep you feeling full and satisfied for longer. Plus, the veggies and broth are low in calories and packed with nutrients.
If you're someone who likes to workout regularly, this vegan ramen recipe can also be a great option to fuel your workouts. The combination of protein, carbs, and healthy fats can help provide sustained energy and support muscle recovery. Plus, the broth is hydrating and can help replenish electrolytes lost during exercise.
Overall, whether you're looking for a comforting and healthy meal or a way to fuel your workouts, this vegan ramen recipe is a great option. Give it a try and see how it can fit into your fitness and nutrition goals.
What is Ramen?
Ramen is a popular Japanese dish that consists of Chinese-style wheat noodles served in a meat or fish-based broth, often flavored with soy sauce or miso, and topped with ingredients such as sliced pork, dried seaweed, and green onions. Here are some interesting facts about the history of ramen:
Brief History of Ramen
Ramen has its origins in China, where it was introduced to Japan in the 19th century.
The first known instance of ramen in Japan occurred in 1859 when the Chinese ambassador to Japan presented the dish to the Japanese Emperor.
Ramen quickly gained popularity in Japan, and by the early 20th century, it had become a staple food in the country.
During World War II, ramen became even more popular in Japan as a cheap and filling meal for soldiers and civilians alike.
Instant ramen was first introduced in Japan in 1958 by Momofuku Ando, the founder of the company Nissin. Ando was inspired to create instant ramen after seeing people in post-war Japan struggling to afford a hot meal, and wanted to create a convenient and affordable option for them.
Did You Know Facts
The Japanese dish traditionally consists of wheat noodles, broth, an infinitely mutable seasoning base called tare, and optional toppings.
Scholars believe that "shina shoba" ("Chinese style" noodle soup) was imported to Japan between the late 19th and early 20th centuries, which eventually evolved into ramen.
The most widely accepted story of modern ramen's origins comes from the early 20th century when a noodle shop called Rai Rai Ken popularized the dish when it opened in Tokyo, Japan, in 1910.
Ramen is now a global food craze, with ramen shops popping up all over the world.
The world's largest instant noodle manufacturer is Nissin Foods, the company that invented instant ramen.
The first instant ramen flavor was chicken.
In Japan, it is considered polite to slurp your noodles while eating ramen.
The first ramen museum opened in Yokohama, Japan, in 1994.
There is a ramen museum in California, USA, called the "Cup Noodles Museum".
The world's most expensive bowl of ramen costs $180 and is served at a restaurant in Tokyo, Japan.